2NE1 vs. Girls' Generation: Are we ready for a crossover?
Despite all the setbacks and speculations, it appears as if two of K-pops most visible girl groups, 2NE1 and SNSD (Girls' Generation) are both gearing up for English language releases this year. While rumours have been circulating for years now, the unexpected blow-up of a certain tuxedo-clad prankster seems to have signalled to YG and SM Entertainment that the time for a US crossover is now or never.
K
-pop's expansion into the US market comes as no surprise of course. K-pop is a multi-billion dollar industry and has been a critical cultural force in the latter stages of South Korea's soft power take-over of the pan-Asian imaginary, a takeover known more commonly as the 'Hallyu Wave'. Yes, South Korea is dominating the Asian speaking world with BB cream, the Samsung Galaxy S4 and precision choreography, redefining "Asia" as we know it. With its hyper-consumerism, cutting-edge fashion and web-centered consumption, K-pop is unique among preceding global music markets because it represents the very real rise of globe-trotting, inner-city dwelling Asian buying power, complete with Louis Vuitton, Victoria's Secret shopping bags and all. It seems only natural then that with growing demand, eventually K-pop will break through the Western market and everything that makes so much sense to us K-pop consumers will come flooding in to take the Western world by storm. MTV-K's tagline "The Future of Music" says it all.
And yet why does the prospect of my two favourite girl groups crossing over make me a little queasy? Well first of all, the US market really is a completely different ball game and secondly there is a lot about Korean culture that American audiences will not understand, and may never try to understand. We all know the reason why 'Gangnam Style' was so popular amongst non-K-pop listeners in the first place was not because anyone cared about PSY and his satirical take on South-Korean consumer culture, but it was because noone knew what the hell was going on. Whilst a lot of western people do actually 'get' it, realistically speaking the three largest groups of people who are into K-pop in the States are Asian-Americans, indie people who are looking for something a bit different and people who are already into Asian culture. These are people who share in the world of Asian popular culture and yet experience it as subculture. It is very different to a world in which popular music comes from the outside, where it is ubiquitous and taken for granted. This is why crazy K-pop fangirls and fanboys are able to care so much, their consumption is privatized through technologies (laptops, smartphones, photobooks etc) that allow a certain amount of intimacy that simply cannot be found with figures like Beyonce or Taylor Swift.
So how exactly do 2NE1 fit into this equation? It's hard to tell, but one thing is for sure, they currently have one of the strongest images in the US. They're pals with Jeremy Scott and made an appearance in a global Adidas campaign, had relatively successful solo shows in LA and New Jersey and most importantly, have something going on with pop powerhouse will.i.am. There's clearly something to be said about the marketability of 2NE1, starting with the way in which they have been embraced by indie music listeners. Their bold, experimental fashion choices, badass posturing and relentless energy is a refreshing sight for alternative music listeners who want everything fun, powerful and creative from pop without the social stigma of their own culture's industry. When they last swept through the States last year they were all over FaderTV. Interestingly, Fader had the girls mostly speak for themselves; we got to see their crazy Asian nails, their out-there designer fashion and all their quirkiness for what it was. It was very different from the usual well-oiled Korean fare but it was also a little awkward, something was missing in the execution of the whole process. What this tells me is that the indie music scene isn't a scene that can promote 2NE1's development, they are happy to take in K-pop's foreigness with interest and bemusement but without having to make any real commitments to the groups involved.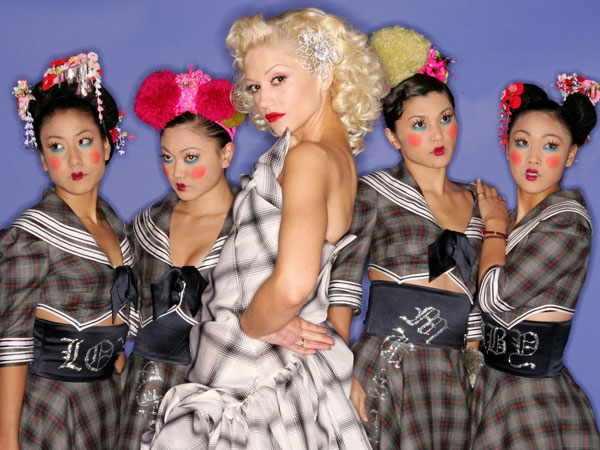 It is very good thinking on YG's part then to have 2NE1 shack up with will.i.am. The guy knows how to make a hit, and the more inane and shallow it is the better, meaning we don't have to worry too much about whether the girls can speak English or not. It should be the perfect match but why is nothing happening? Two years into the works and we are yet to see much in terms of progress between the two. Why all the hesitation?
I can't help but wonder if this is a race issue. I personally think will.i.am is a very calculating, Machiavellian businessman who isn't going to make a business decision that will lose him money, and however painful it may be to hear right now, 2NE1 are still too risky to bring the returns. Can a black guy really chaperone a girl group of tiny Asians in high-fashion street wear into the Billboard charts – and more importantly for more than just one hit? Can Gwen Stefani's Harajuku girls break free and finally gain their voices? Interestingly CL declared in a recent Billboard interview:
"I want to represent Asian women. I want to break that typical Asian female stereotype. There's this standard where they're all calm…I want to break that. I want to tell the world that there are some badass Asian female girls and that we can be cool. That we're nothing different. I want to break that standard and stand up for all the girls."
This is what is going to have to happen if we accept 2NE1 on their own terms, but are we ready? I want to turn to Girls' Generation to try and figure this out.
Girls' Generation are a very different affair to 2NE1 because their image is very much bound up with sex. Not to say that they are sexy, slutty or provocative but that their marketing relies on the consumption of their bodies and you can't consider these things without acknowledging sex. This group was created for  men aged between 30-40 years of age with expendable incomes as their virtual girlfriends. If you want evidence, look at their latest commercial for a Thai smart phone company. Women are of course implicated in Girls' Generations representation of perfect South
Korean femininity too – we aspire to be them, we are compared to them, we are even comforted by them, just like men. There is no denying that Girls' Generation have gained themselves a substantial fan base of young teenage and adolescent girls, especially outside of South Korea. So the question is, who will SNSD's American fans be – boys or girls? Men or women? The answer lies in whether American girls will want to be GG or whether American guys could envision the group as potential girlfriends. This brings up some pretty uncomfortable realities about what kind of representations of Asian femininity are already out there in the Western consciousness. I can't really think of an Asian girl who your average Western girl has aspired to be so I'm left with a worrying prospect for the guys. Representations of Asian femininity to American men since the Pacific War have been very much linked to the sex industry and prostitution, closely followed by the representation we are shown in video games; sexy, half-dressed fantasies. Will these images come into play when our beloved Soshi cross-over? South Korean society has so far relied on Neo-Confucian conservatism to draw the line between granting access to "girlfriends" and something unspoken. Is that line really present in the States?
Finally there's the question of numbers, and that number is 9. For those who aren't used to recognising Asian faces, Soshi all look the same. One way they could solve this is to give everyone a different nickname or hair color but another more effective way would be to let one girl take the  spotlight for the group. Soshi have often been labelled South Korea's "Pussycat Dolls" but if that  is the case then let me ask you, can you name any of the Pussycat Dolls besides Nicole? No doubt Girls' Generation's Nicole Scherzinger is going to be the American-born Tiffany and that puts everything in a very precarious position. As a member of SNSD, Tiffany stands out amongst the multitude of different personalities, not on her own, but as a part of the whole. I just don't think she's had the training or the experience in South Korea to make it on her own  in the US. I don't doubt that this talk rips the heart out of any Sone dedicated to the OT9,  but if GG want to succeed, then they might just have to trample all over a lot of fans – and no one wants to open that can of worms.
So far all of this sounds like a lot of doom and gloom but these factors need to be confronted if we really want to consider crossover seriously. Yet despite everything I've said, there is an X-factor to industry success that is able to defy the strongest predictions. That is what makes pop music so compelling. Whether K-pop girl groups have this X-factor I can't be sure…but for now, I'm not holding my breath.
The following two tabs change content below.